My smol obsession with Star Wars began the day my cousin Jon was left to watch us kids and decided to toss out Tangled for The Empire Strikes Back. Actually, I don't remember which one, but here we are.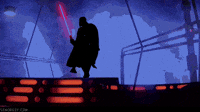 However, this isn't about my obsession with Star Wars, or the fact that latest SW was.. well…(COME ON THE LAST JEDI NEEDS BE RE-WRITTEN ALL OVER AGAIN LIKE WHY SW) interesting. This is about the fact that Penny Wood, wonderful crazy great Christian blogger writer bean, knowing full well how I love writing and Star Wars, tagged me for the creation of her writerly mildly fandomy taggy. So in honor of the occasion (and because the thrift store had a 50% off sale) I got some SW merch. Behold.
This shirt, I like it!
*gasp* ANOTHER.
XD References all around. Let's get into this so I can go back into my comfy bottom bunk bed nest of oblivion and zero people so I can write and Pinterest my head off.
Also, I'm no way actually following the rules, but they're so creative they should be put in every tag:
1. THERE ARE NO RULES.

2. Refer To Number 1.

3. There is one absolute rule: You MUST use your own characters (OCs) for this tag. (Brownie points if you add pictures of your characters.)

4. The Sorta Rule: Scream a huge thank you to whoever tagged you for this whilst treating them to a pizza dinner at your favorite pizza chain.

6. The Rule That's Not Really A Rule But It Would Be Great: Include the graphic and tag at least three Jedi or Sith Lords.
Penny, you're a queen. XD
(Also I was lowkey tempted to use people from real life but after speed writing for NaNo prep, that was tossed outta the window so here we are)
Who's Your Obi Wan Kenobi? (sassy, a great mentor, but can be a bit strict)
Uh….
Horace Allister from Just Come Home.
He's not sassy per say, but he is a great mentor, and he's strict. XD Horace is a pretty great granduncle kinda figure who likes to pretend he's intimidating but is actually an either Scottish or Irish cinnamon roll.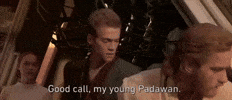 Who's Your Leia Organa? (feisty, incredible comebacks, and does their own thing)
KATE.
Kate Smith (Just Come Home) is a master of wit and snarky comebacks, and is completely chill with almost anything coming her way. She calls out everyone on whatever they're up to (usually Gale) and is almost annoyingly unruffled by anyone. Which makes interrogating her nearly impossible. She'd just roll her eyes at you. Also, she has probably watched Star Wars more than once and connects with Leia the most.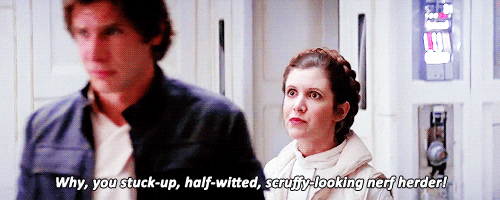 Who's Your Finn? (overeager, adorable, a cinnamon roll)
Awww, Ricky, from my April 2019 WIP! She's the walking description of overeager adorable cinnamon roll.
You don't know her.
But you will. >:)
Do know that she would probably be best buds with Finn.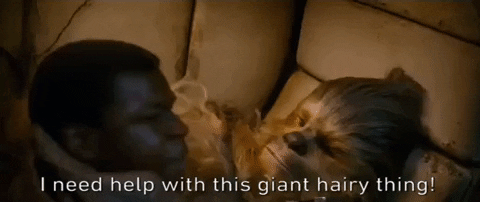 Who's Your Padmé? (kind, loving, but also kick butt)
Oof, Dareine Penner from Mirages.
Sadly, Dareine hasn't exactly had a chance to show the softer sides of her (maybe because she doesn't have one? Nobody ever really knows) thanks to life and everything in it, but if you really get to know her, she's kind and loving- and if anyone crosses her, they're dead.
You've been warned.
Don't mess with Dare.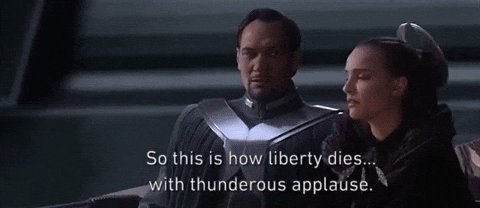 Who's Your Count Dooku? (deliciously evil, extra, and sick burns)
*glares at Alex*
Alex is infuriating, terrible, horrible, evil, JUST UGh. no nice words for him. He thrives on being chaotic evil, and has a warped sense of truth that isn't even truth. (WHICH IS THE WHOLE BOOK OF MIRAGES WOW XD)
Who's Your BB-8? (too cute, everyone loves them, can do no wrong)
Awww, Callie from Mirages!
Callie is a bumpity umpity run aroundity happy precious little bean in a world full of guns and swords and people fighting to the death and everyone's okay with that. She's still a toddler at the ripe old age of 6, and like BB-8, she can handle herself really well. And she's adorable.
Very adorable.
Fight her, and if she doesn't defend herself, Dareine will handle you.
Who's Your Yoda? (underestimated, extra, and wise)
Jake Darn, from Just Come Home. Because he's a little on the quiet side, doesn't socialize that much, but if you get to know him, he has way more to him than meets the eye. Also he feels the need to go around passing advice to his siblings because seriously, you guys, stop going around doing crazy things and getting yourself killed please thank you.
Jake's pretty underestimated, but that's okay with him. Taking people by surprise is what he likes doing (take a hint, any colleges out there, pleaseee)
Who's Your Anakin Skywalker? (bratty, rebellious, whiny)
Bella Worth, from Just Come Home is the breathing Anakin Skywalker but a girl, less skilled with a lightsaber (i.e. legit no clue how to do anything of that sort), and way more petty. She's just horrible and thinks the entire world revolves around her, and I have no nice words to say about her so I'm just stop right here. UGh.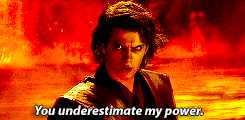 Who's Your C3-PO? (always worrying, gives depressing information, constantly wailing)
Lute. Lute. Definitely Lute from my April Camp WIP. He spouts unnecessary, useless old information at the wrong time and whines about everything ever  to exist. But there's a reason for that. He's still loveable, if still very annoyingly despairing 24/7.
Who's Your Luke Skywalker? (hero, has been through a lot, has their share of flaws)
Gale, my good charrie, is a Luke Skywalker in so many ways it's not even funny. She's seriously flawed and it shows, but somehow she sees it through and does her best and yeah. She's had some Luke Skywalker moments, and she messes up a lot, so her hero qualifications are rather unusual. But they're there. Somewhere.
And there you have it. My charries, 'ccording to Star Wars. *bows*  I really need to get back to plotting. Camp starts next month!
(And Penny, this is just for you, you wonderful Jedi master, you. 😀 )