**If anyone throws out the Zendaya is Meechee meme. I will end you. :)**
**There are spoilers**
**sorry**
**not really**
**oh well**
Yes, I was so taken by the theme of a (good) animated film that I decided to do a blog post on it. Honestly, movies maybe not be the best kind of media, but there's some seriously good things to get from them, just saying.
Family movie night has always been and will always be a thing in our family. Smallfoot was a recent  (*cough cough* like since January recent) watch, and I found myself commenting so much on the theme and characters and idjit humans (yes, I said that and if you watch the movie, you'll get why) so much the first 30 minutes in my exasperated dad told me to sit down and just watch the movie. Which I did.
So glad I did. Because Smallfoot addresses something very important that people seem to forget- okay, scratch that, it address so many things that gives me some hope for animated films. And people should not forget these things. Not in the slightest. Le' go.
Theme 1, asking questions and being curious
For those who haven't seen the movie, basically yeti with very human cultures don't believe in smallfoots (hint hint: humans) and are promptly shook when the MC, Migo, says he found one.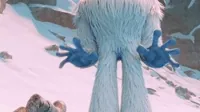 Chaos ensues.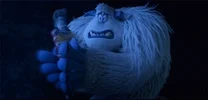 Why? Because the stones (some weird rock thingies with pictures that are supposed to be translated into rules for living) say there are no smallfoot! *crowd gasps*
Anyway, the good citizens of yeti-land (not real name) are told time and time again not to question the stones- or question in general, because questions are bad. And Migo is fully heartedly behind that, no questions about it. Until he gets kicked out for defending what he knows is true and therefore has to ask a question which isn't the ultimate question but which leads to the ultimate question: Questions are bad?
Meechee, the Stonekeeper's daughter (more gasps) and her rag-tag bunch, the SES- Smallfoot Existence Society- think differently. That's why everyone except Meechee was expelled, of course. Because they.. well. were thinking differently. And by differently, they believe that smallfoot exist and have evidence to prove it AND have actual working theories to show for their crazy (in Migo's eyes, anyway) idea.
"All these questions that we always have/ all we are is curious/there's nothing wrong with that" Meechee explains in song form (how original)to Migo a few minutes later. The SES soon convince Migo and later, everyone else, that asking questions is the way to knowing the truth. Which is 1. not very mentioned in stories, especially not a girl, let alone a princess, as her motive for science, and is therefore applauded by moi and 2. the next theme in this unusual mix of themes.
Theme 2, seeking the truth
Truth is hardly ever mentioned in kids' stories, let alone stories in general, so it was really refreshing to see it mentioned and portrayed. (Also, geek self insists on mentioning that I was studying the Age of Reason at the time, and was irritated that Smallfoot managed to compress and explain the concepts of the Enlightenment while my history teacher took like 4 hours. Which is my way of saying they taught some pretty weighty concepts)Anyway. Poor old Migo knows he saw a smallfoot, but according to the Stonekeeper, he didn't. Why? The stones say there are no smallfoot, duh. And the stones never lie. Right? I mean, like, they're the stones.
It might pass by a little kid's head, (which I am, but let's ignore that) but Smallfoot's message was wonderfully clear: Truth. is. important. Even if someone says it's true, you must find out for yourself. You can't just take it on someone's word. Migo, our good yeti homie, has some problems with this because.. well, when you know the truth, it has consequences on everything else. Such as, what, the sun isn't a giant snail that comes out when you ring a gong? Why do we need gong ringers then?
The truth is, the truth changes your life. And for these uninformed furries, that's a rather drastic change. Why?
Theme 3, people are gullible and tend to believe whatever a higher trusted source says is true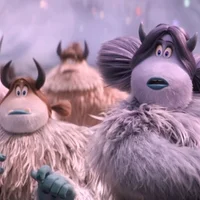 Smallfoot took a real life phenomenon in our culture and portrayed it for little kids so perfectly it's a wonder that we "older and wiser" can't see it for what it is: if you just get the right people an the right audience, people will believe anything you tell them. Case in point, the furries yeti. It's shown in a humorous way (and even better, a great plot point), but it shows something that's true: we humans tend to rush in headfirst toward opinions and things we believe are true, just because someone/thing/yeti says so. Which is terrible, because even though the yeti started asking questions, even though the truth was right in front of them, they were still persuaded by the Stonekeeper, simply because he was right. Right? Wrong. And it led to more chaos.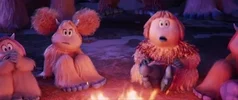 Theme 4, Integrity
And here I must actually write a paragraph about the idjit humans.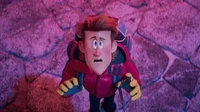 Well, just the one idjit human. This guy, who *used* to be a naturalist who was all about saving extinct animals by filming himself talking about them, but now just does it for the ratings- and money, of course. Which makes him so desperate he buys a yeti suit for the sake of one epic YT video.
Yeah, not much integrity. And his assistant leaves him because of it.
Aw, hand me a tissue, what a down-on-his-luck- charrie- not. And he knows it.
This character who shall go unnamed because I'm too lazy to actually google it grows a lot through the movie- and learns, as well as the audience, that integrity isn't about making sure you're on top. Sometimes you must put yourself out of the way for others. A good lesson for everyone to learn.
And thus concludes this ridiculously long post, for a movie that was as meaningful as it was ridiculous. And while I still have a bone to pick with some elements (such as the challenging of the stones, namely, that just like in the Age of Reason, people decided to question and eventually walk away from the Bible because, like the stones, it mighta just been a wonderfully concocted and too well trusted set of rules. Post for another time.) I popped the movie out of the dvd player surprisingly refreshed by the lessons Smallfoot teaches- and related to Fleem on a personal level.