Is this post late? Yes.
Am I sorry? No.
Should I be? Probably. But uh, I just finished watching Incredibles 2 with my family, and as I always try to say "life before blogging," I don't regret a thing. And trust me, I'll be talking about that soon. TRUST me. But for now.. da post!
Hey-lo! A happy mundane Wednesday to you.
I mean, you have school, don't you? Mundane it is.
As such, here's hoping this crazy unfortunately mushy post will crack a grin on your face, as I present the next part of mine and Enni's duology! Which was in the title! Because I definitely gave it away with the jar of dirt gif! 😀
And ehhh, most of my reasons are actually Enni's, because there's no way I'm this mushy about a ship, so if any of these appear to a. have CAPS LIKE THIS b. the word love, or c. an overall aura of hopeless mush, don't blame me. Go check out Enni's post, she has the cooler reasons XD
(Also E is Elizabeth, W is Will. But y'all know that already. 😉 )
1. THE WAY THAT W LOOKS AT E WITH PUPPY DOG EYES
My fine mate, you're looking at Elizabeth,  not the horiz- oH.
You hopeless romantic.
What is it with people looking into someone else's eyes? I could write a whole paragraph about starting into someone's eyes and it still wouldn't be enough to describe it.
2. E isn't some useless love interest whose purpose in the story is fulfilled once W comes in, she's in every right her own character. 
YES. YES. YES.
I don't know about you, but I hate it when any character, girl or guy, exists solely as a love interest- when they could be developed and rounded out and deep and impactful and when they do not need another person to make them a good character, they're good on their own. And that is Elizabeth.
I mean, have you noticed her arc? Elizabeth starts off as a girl in high society, tries to help kid Will Turner so he won't be mistaken for a pirate, accidentally triggers a bunch of problems, has to deal with Norrington (at least I think that's his name), has to get used to pirates and fighting and all that, and then finally becomes a pirate in her own right. And fights and leads an armada.
What an arc. And yet, she's still in love, but still strong.
*mindblown*
3. W genuinely supports and cares for E without being creepy HE LOVES HER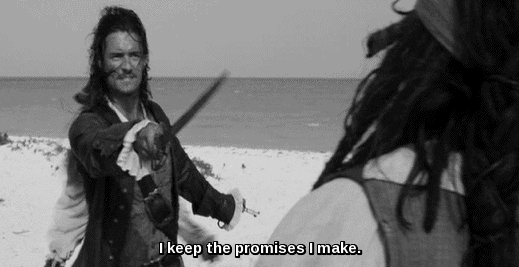 Unlike *cough coughs* Norrington and like a bunch of other people I could mention right now.  No offense to James. He's a good guy- helped the right side in the end. It's just that… do you remember that scene where Elizabeth's fainted because her corset is so tight, and when she mentions it to Norrington, he mentions how nervous he is? Cause.. I do. 😀
Anyway, Will is pretty great. He doesn't assume Elizabeth can't do anything by herself, he doesn't feel the need to rush to her aid whenever fate would have her stumble, he fights with her and backs her up and I mean.. he said so himself, he'd die for her. He's doesn't hesitate to stand in harm's way while knowing Elizabeth can protect herself. And that's pretty nice. Scratch that, it's really nice.
4. W and E are SO DEDICATED TO EACH OTHER IT'S NOT FUNNY

So, uh, spoiler for those who haven't watched it yet (but if you haven't, well, this whole post is a spoiler) William and Elizabeth uh– get separated. And to top it off, they can't see each other for 20 years.
20.
20.
I'm not sure I could handle not seeing my best friend for 20 months, let alone years. But they chose to do that. They knew it would be hard, and still, they decided being apart together was better than being apart period.
I don't understand these weird people. But dedication. Wow.
5. Their wedding is the best wedding in history, and I will never take that back.

Correction, Enni might never take it back, but I sure would. Because I've seen other– that spoils this section so nevermind. XD But while I wouldn't go so far to say that it's the best wedding in history, it's one of the best fictional weddings.
They get married in a STORM.
With some creepy monster.
And people attacking them.
AND THEY SAY THEIR VOWS WHILE STABBING WEIRD CREEPY BAD GUYS.
oh, and need I mention they fight in sync— holding hands?? Now when's the last time you saw a couple do that- much less fight, period? Hats off to these two. They have better fight choreography than my left feet. XD
But seriously. It's pretty great.
So there you have it. My reasons for why Willabeth is a power couple. Is it kinda weird that this is coming from me? I guess. But I stand by it the same. While I can't fully support everything in the POTC movies, I do want to point out the good parts it has- and Willabeth is one of them. 🙂
tl;dr: Willabeth is a great couple because they are equally strong characters, and their being in a relationship is tested over and over, yet they refuse to let go- even if it means they will hurt.
*bangs head* I've had it with mush for one day. Goodnight! 😀
Life is a highway,
 Jo